Hello Everyone, have you ever thought of getting to fix google manual action? Well, today am going to be giving and showing you detailed steps and actions to put in to get your Domain forgiven from manual action penalty on google and fix google manual action.
Before we take any steps further, let me tell you a story of my experience, which I think would give us a big idea to remove google manual action penalties.
People also say the term manual action is an improvisation for Cyber jail..crazy right? However, so true. By the way, let us take a brief look at what a google manual action penalty is.
What are Google Manual Actions?
Google has a way of issuing a Penalty in other words known as MANUAL ACTION against a website/domain when the owner of such site fails to adhere to google webmaster terms and conditions, and such website which disobeys the laws of google is being detected by a google site reviewer.
First of all, we would know to have knowledge of the types of penalties Google gives. Below is the list of manual actions provided by google.
List of Google Manual Actions
User-generated spam
Spammy free host
Structured data issue
Unnatural links to your site
Unnatural links from your site
Thin content with little and no added value
Cloaking or sneaky redirects
Pure spam
Cloaked images
Hidden text or keyword stuffing
AMP content mismatch
Sneaky mobile redirects
If you fall under any of this category, sorry for your Domain because you are going to fall in your SERPs (Search Engine Ranking Pages).
Let us assume you were ranking No. #4 for the keyword "FIX MANUAL ACTION GOOGLE" as soon as you receive this manual action alert, within a week, if you don't take drastic actions you'll find yourself in PAGE 3 of google search engine rankings.
NOTE: GOOGLE would send you this alert and then tell you that there are specific links affected.
For example; LINKS AFFECTED: https://yoursite.com/manual-actions-penalty/
Don't fall for that lie that google would tell you because your whole site is going to start losing rankings steadily.
Before you know it, you will get frustrated and start insulting Google algorithm and updates.
My Guy, google didn't do you anything, you no just dey very sharp to detect google penalty sarcasm in their Manual actions warning.
The only condition in which a single URL would be affected is if you receive a warning on DCMA removal, then the link mentioned is the only link getting affected.
However, if you don't take down the post that requires DCMA removal, just know that you are embracing YOUR DOMAIN name to fall under google Black-List.
How People Fall into Google Manual Actions Wahala.
Below are how people get trying to fix google manual action:
Buying of Second-hand Domain Names.
Getting of Expired Domains with High DA & PA for comfortable work.
Redirecting of Expired Domains to MONEY-SITE for Link Juice and passage of PAGE-RANK.
You will be buying plenty Backlinks at a short period of time.
Above written are the main ways in which people fall into google manual action penalty, and then they start checking posts like this to know how to fix it.
Remember I said I am going to share my story, right?
Well, Sadly I am placed among the 2nd SET of people...hahaha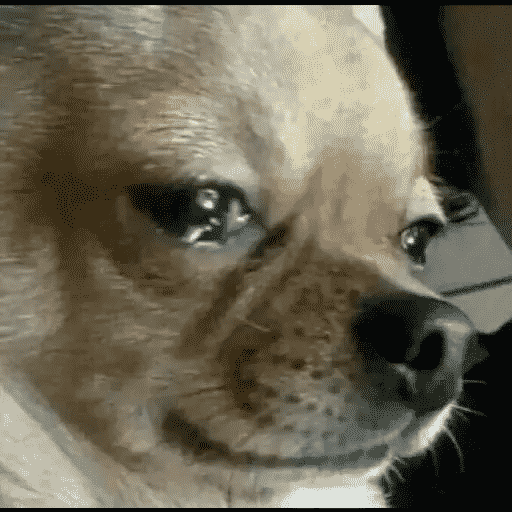 You see this poor dog crying here, right? That was precisely how I felt. Just like the saying which all of us must have heard "This sickness is not unto death" that was what I used to keep myself together without freaking out that I just wasted some amount of dollars.
Straight to my story.
The name of this Domain I bought is facebook-ellas.com
It had a pretty lovely DR of 16 on Ahrefs and also its MOZ DA Score was over 25, which is evident that it has a good backlink profile. However, this Domain had malnutrition.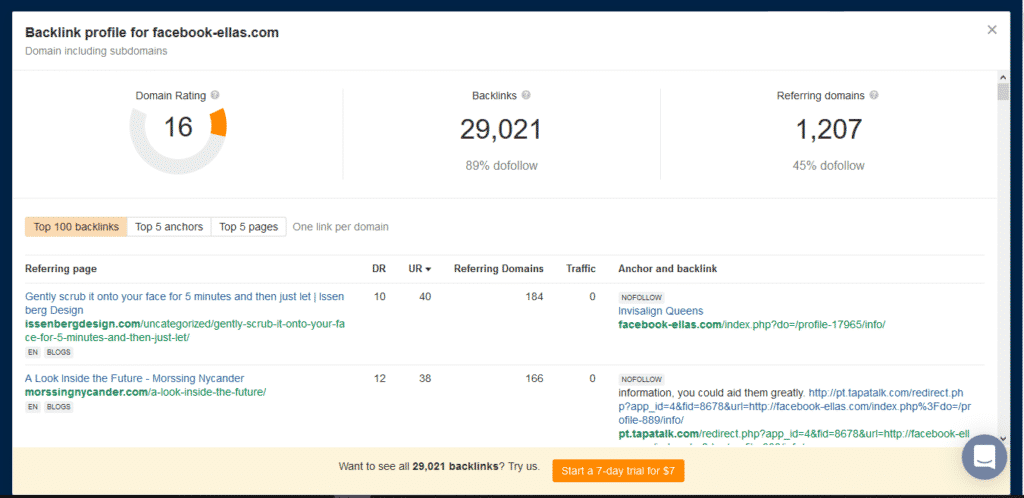 Fix Google Manual Action.
It was suffering from USER-GENERATED SPAM.
Now how did I notice? Each time you buy a second-hand or expired domain, also verify the Domain on search console using DNS records to check if the Domain is suffering from any google manual penalty.
Back to my story, as soon as I added it to my search console, BOOM!!! I started seeing
MANUAL ACTION, chai I wanted to start crying what would I do now? Where do I start?
I asked myself all those questions I even went to google search and bing search typing stuffs like "how to fix google manual action" "Remove User-Generated Spam Google" all the articles there just kept beating around the bush from my point of view, no one was hitting the target and giving me what I wanted to hear.
Then I decided to deal with this manual action on a solo mode.
Before that, I have to say that I wanted to test if the USER-GENERATED SPAM manual action could do anything to me, then I set up a 301 redirect from facebook-ellas.com to this site repdex.online.
Trust me, my people it was a regrettable experience, each post went down by 5 rankings overnight.
Oboy as I see that one, I knew what I entered into. I can't just let my money disappear like that, and i had to fix the google manual action.
This what I implemented at first, but sadly, it didn't work out.
I had to file a Reconsideration request to google for the manual action to be taken away.
Before that, there are some few steps to take.
Steps to Take in Fixing a Google Manual Action
Remove all existing content on site
Disavow all backlinks
Update site fresh content
File a Reconsideration request to google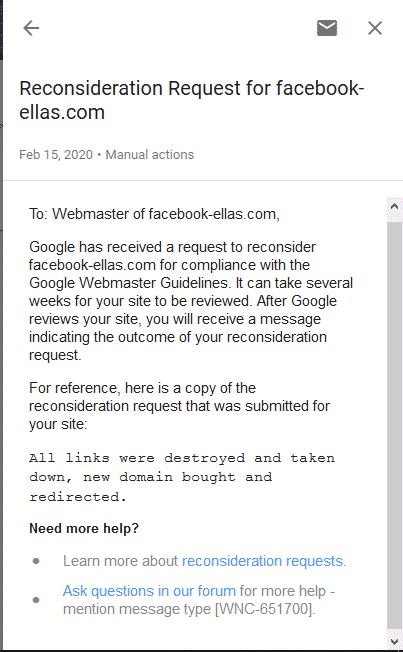 This was the file note I told google in the reconsideration report, oboy google sent me to request processed on February 27th, and I file in the reconsideration request on February 15th. Take a look below.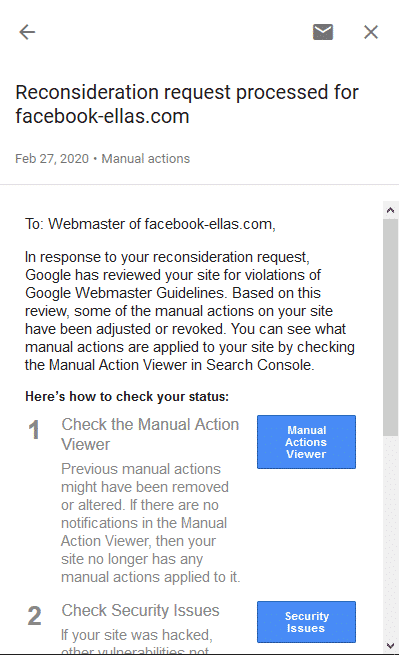 Fix Google Manual Action.
After this message I expected everything to be okay, Yet google still broke my heart, no manual actions were erased or removed.
The User-Generated Spam was still looking at my face to face, and there was nothing I could do.
But I can't just give up anyhow, and I knew manual actions cant put me down.
So, I file another reconsideration request to google. This time around, I was more specific.
NOTE: All Reconsideration Request are not reviewed by bots, they are viewed by human reviewers employed on google, So try as much to explain in detail in the note section for better understanding for the Google Reviewer.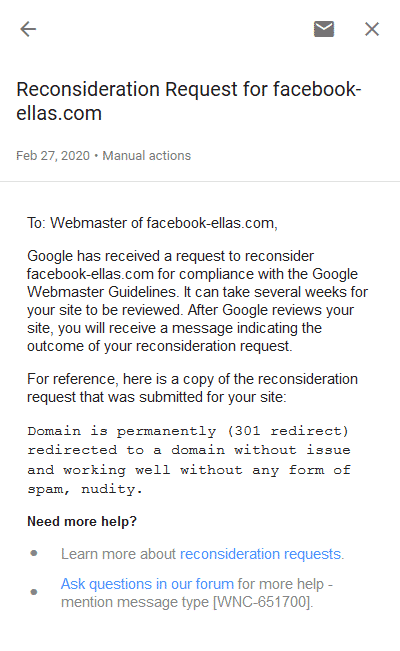 Fix Google Manual Action.
Check the date February 27th, as they sent me the last processed statement and the manual action wasn't still removed, I made another reconsideration request so I could fix google manual action on the site.
You can take a look at the photo above to see how I arranged the statement.
Never lie to google, google hate liars they will take their part in the Lake of Fire. In this case, it is in the Lake of Manual action penalties.
That second request, Google finally took down the manual action…Hurray!!!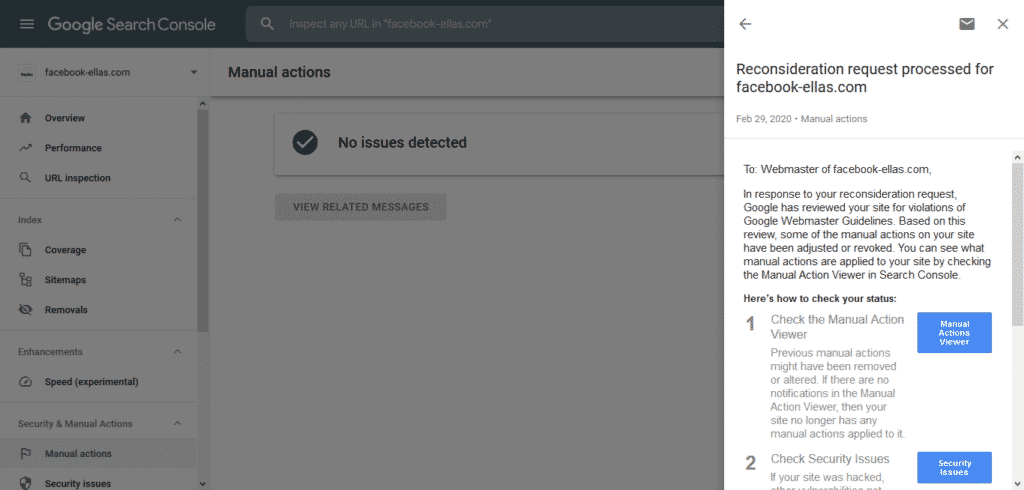 Fix Google Manual Action.
Surprising right? As early as February 29th, I got a reply from google after making a reconsideration request on google on February 27th. So I was able to fix google manual action for facebook-ellas.com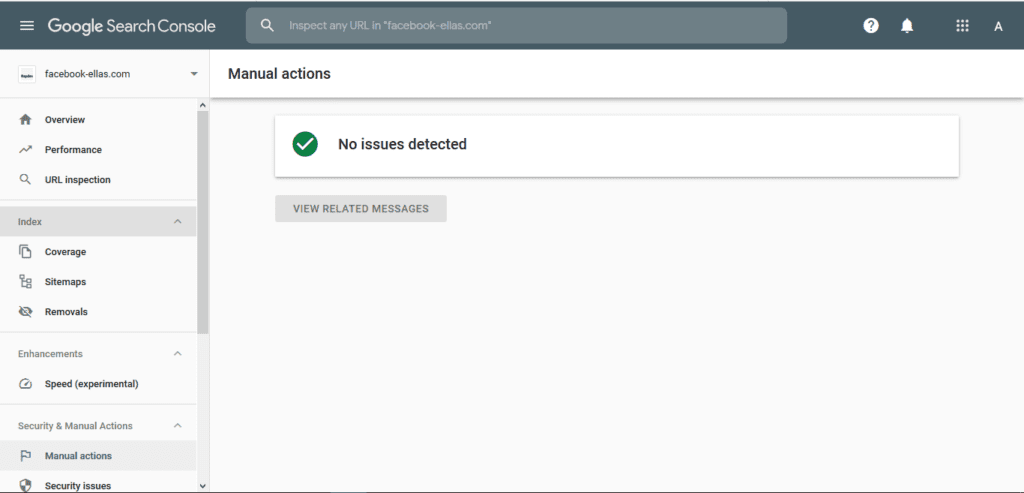 Fix Google Manual Action.
All manual actions( User-Generated Spam) cleared.
THE SACRIFICE I HAD TO PUT TO GET THIS DONE.
Although having seen this, I had to make a sacrifice. I couldn't start going ahead to buy a hosting plan for the Domain facebook-ellas.com and rebuilding fresh content.
So I made a 301 redirect from the Domain to my leading site having all site contents act like it own.
The sacrifice was that I had a substantial negative impact on my rankings which also caused a drop a traffic obviously, due to redirecting a domain with manual actions.
DOMAIN ISNT AVAILABLE TO MY SITE.
After I removed the manual action (User-generated Spam), I took down the 301 redirections and placed the Domain for sale on NAMECHEAP MARKET PLACE, make sure you go check it out.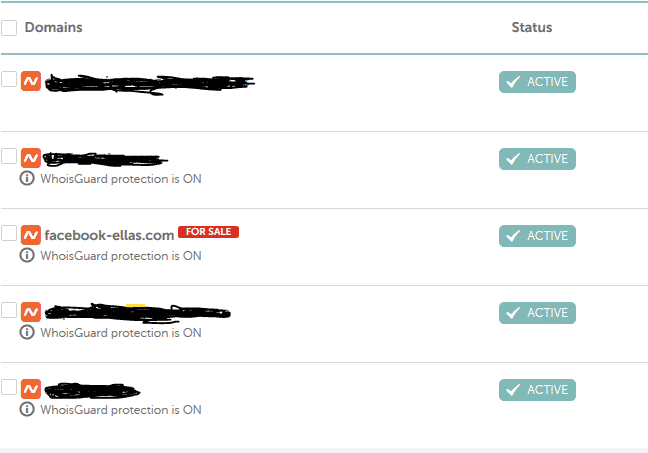 Can you see it now, right? facebook-ellas.com is for sale on NAMECHEAP the market place.
I also think this would help – Guide to Choosing a Domain Name
Hope this article helped you a lot, kindly do so by dropping valuable comments below!!