Kwenchy Kups, the good old drink you may not have heard about. A throwback to a few years ago, these drinks were everywhere, alongside it adverts.
A very tempting look, as a kid you'll definitely want to get your into your mouth and whenever you spot someone drinking it, you automatically become so hungry just to drink the kwenchy kups, although people may mistake it for kwenchy cups or quenchy cups.
The kwenchy kups drink always thought me never to "judge a book by its cover" the nice and enticing design, but the moment this drink enters your mouth, you'll taste one of the saddest and sickening drinks ever!!!
What is a Kwenchy Kup?
The Kwenchy Kup is a Drink (Sugar-Free) made by Calypso Soft Drinks Ltd., LL13, 9QA, UK. And you can buy a kwenchy kup from open supermarkets, alongside small close by shops.
The Kwenchy Kups Drink also come with several flavors like (Raspberry, Orange, Cola, and Blackcurrent flavors, and kwenchy tesco). with sweeteners inside the drinks.
Why is Kwenchy Kups Attractive to Kids?
Like I said earlier, this drink was just so good looking that any kid who sets an eye upon it would definitely wanna have a taste of it. A lot of marketing strategies were implemented to make the kwenchy kups drink to sell.
These Marketers knew the drink was just for a short span, so they did the best strategies to make sales, and what is that strategy? Probably, they must have interviewed kids or studied the nature of kids being attracted to colourful kinds of stuff.
The Shape of the drinks were very unique unlike other drinks back in the days, a flat covering on the drink and it allows you to put in a hole to suck the drink on any part you feel like.
Take a quick look on a Kwenchy Kup below;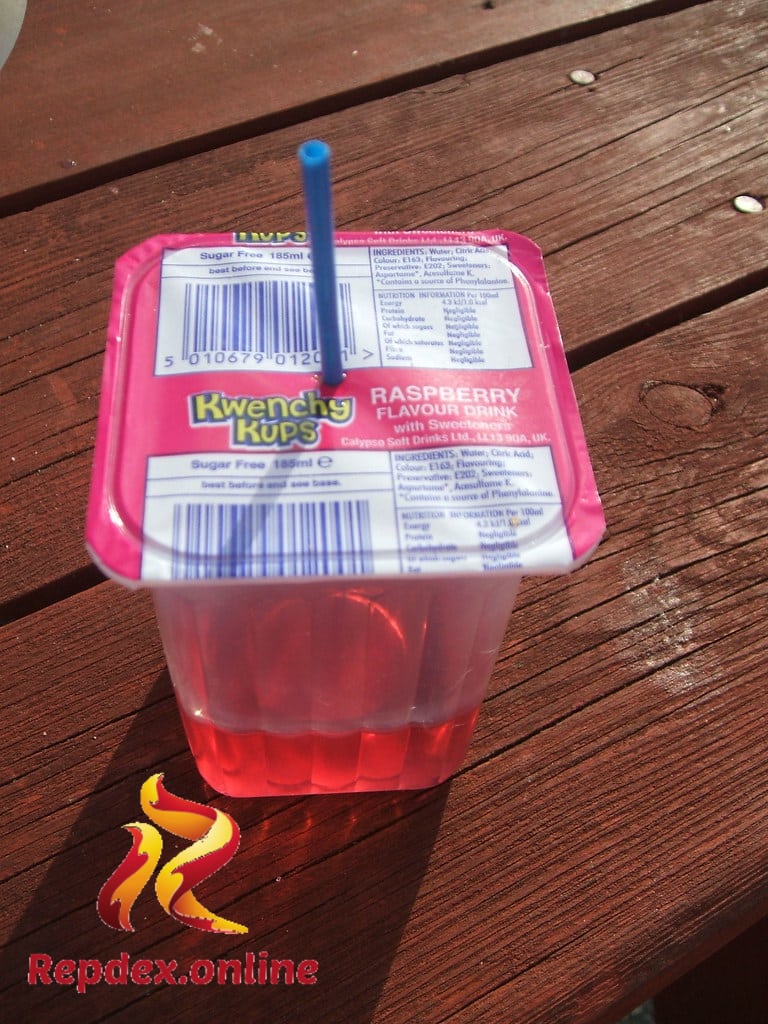 Well, i really don't think this drinks are still gonna be available right now, so its a nostalgic drink. Those who were able to meet and have a taste of the kwenchy kups drink, we all respect you guys!!!
But this is a question to you all – Could you handle the kwench?
This is just an old school drink, to bring up memories and share happiness. The Kwenchy kup was a very good looking drink, and it had a cheap price.
Kwenchy kups comes in a carton with 12 drinks in total, 6 raspberries flavoured and 6 cola-flavoured drinks with straight straws.
The raspberry flavor tastes so awful, you might puke in the toilet or pour them damn drink all out. Tasting like a low-quality raspberry fruit was put inside the raspberry flavoured kwenchy kup. Seems like they used spoiled and poor raspberry fruits to make this raspberry flavour.
Kwenchy Kups cola flavor is absolutely the worst drink you can get, it is so bad and no one even knows what the hell the quality department were thinking, as there are way several sugar-free drinks that still have a good and wonderful taste in the mouth, unlike the kwenchy kup.
I don't feel there is gonna be any man, woman or child who is going to enjoy taking the damn drink and still feel alright tho????
The regular kwenchy kup drink is at 8 pence, and the cola version of this kwenchy kups juice is for 17p. Cola flavor tastes like a leftover Pepsi or a stale coca-cola drink. These drinks got so bad that it was used in schools as a means of placing bets and making challenges.
Also it got promoted by several notable influencers and celebrities to help sell the brand
Check Out: What is Bronze Skin Tone?
It contains a lot of sweeteners which i think is what really made it have such a stale taste and repel buyers who tasted this drink.
Most children always cried for it back in the days, they never knew the content of the kwenchy kups, and most times they Kant handle the kwench !!
This kwenchy kup or quenchy cup drink is indeed a very absurd, sickening, annoying, and intolerable. If you take this early in the morning after a shower before going to work, trust me, only the taste might get to ruin your day.
Well, the kwenchy kups may come in a re-branded form and make positive changes to their taste of the kwenchy kups.
However, it costs as cheap as 8 pence and 17 pence, but trust me the taste is worth lesser than that amount, som people say giving a kid the kwenchy kup drink is torture!!
Hey!!! let's just kill it with the bad vibes on this drink, actually the drink is manageable to take, but for reals, the company would really love to work on the taste of their juice and introduce new marketing strategies to get their kwenchy juice to sell. A very affordable drink and its low price make it look like a giveaway.